The Platinum–Selling Folk-Punk Band Will Play Their Pivotal, Self-Titled, Debut From Cover To Cover
After enjoying an entirely sold out Spring 2023 Tour, Iconic Alt Rockers Violent Femmes have announced that that they are adding more dates in the Fall to continue the 40th anniversary celebration of their ground-breaking self-titled, debut album. The Platinum-selling group will, once again, perform the record from cover to cover, during the month-long routing that kicks off October 3 in Milwaukee, WI and culminates October 22 in Richmond, VA at The National. Select dates will feature symphony accompaniments, including the esteemed Milwaukee Symphony Orchestra at the Bradley Center at the start of the tour on October 3 and two nights with the iconic, 90-year-old Grand Rapids Symphony at the DeVos Performance Hall on October 6 and 7.
Once hailed as the "soundtrack to male puberty," Violent Femmes' first record amplified teenage angst and alienation in the 1980s with such songs as "Kiss Off," "Add It Up," and "Gone Daddy Gone," written by Lead Vocalist and Guitarist Gordon Gano before he'd even gotten his driver's license. The album, which was mostly autobiographical, would later prove to embody some of the most powerful anthems of a disenchanted youth that the world has ever known. And while it took 10 years to go Platinum and hit the Billboard Top 200, it has now sold three million copies worldwide and is still in rotation on today's top rock stations, substantiating it as more than a simple battle cry for a misunderstood youth. Today, it stands as a pillar of an American underground movement, and one of the best early examples of alternative rock.
For the remainder of the '90s, Violent Femmes continued to record new material, while their earliest songs remained in the zeitgeist, thanks to popular shows and films like "My So-Called Life," Reality Bites, and Grosse Pointe Blank. Since that time, the band has released 10 studio albums including their most recent Hotel Last Resort (2019). Today, Violent Femmes continues to resonate with audiences of all ages. Upon the band's 40th anniversary, Pitchfork wrote that "The Femmes don't signify an era so much as a time of life," adding that "for young people growing up in the internet age" their music "is part of a shared language."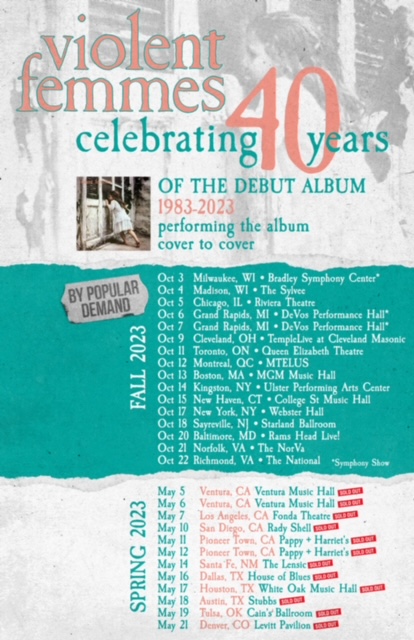 The official tour dates are as follows:
Dates subject to change.
Oct 3 Milwaukee, WI Bradley Symphony Center*
Oct 4 Madison, WI The Sylvee
Oct 5 Chicago, IL Riviera Theatre
Oct 6 Grand Rapids, MI DeVos Performance Hall*
Oct 7 Grand Rapids, MI DeVos Performance Hall*
Oct 9 Cleveland, OH TempleLive at Cleveland Masonic
Oct 11 Toronto, ON Queen Elizabeth Theatre
Oct 12 Montreal QC MTELUS
Oct 13 Boston, MA MGM Music Hall
Oct 14 Kingston, NY Ulster Performing Arts Center
Oct 15 New Haven, CT College St Music Hall
Oct 17 New York, NY Webster Hall
Oct 18 Sayreville, NJ Starland Ballroom
Oct 20 Baltimore, MD Rams Head Live!
Oct 21 Norfolk, VA The NorVa
Oct 22 Richmond, VA The National
*Symphony performances.
For more information, visit https://vfemmes.com.
Follow @officialviolentfemmes