By John Stevenson
Though Oytun Ersan started out as a saxophonist, his innovative brand of rock, funk and Turkish-influenced melodic improvisation carries the jazz bass guitar into new and progressive frontiers.

This writer interviewed Oytun (his wife Melis kindly interpreted from Turkish to English) during a recent visit to Kyrenia in the Turkish Republic of Northern Cyprus (TRNC).
Fusiolicious, Oytun's latest recording, sports an all-star cast of heavyweights.
Produced by legendary bassist Ric Fierabracci, the musicians on the album are drummer Dave Weckl; saxophonist Eric Marienthal; keyboardists Gary Husband and Gerry Etkins; guitarists Dean Brown, Mike Miller, Brett Garsed and Okan Ersan; trombonist Gökay Gökşen, trumpeter Utku Akyol, violinist Karen Briggs, and vocalists Simge Akdoğu and Aytunç Akdogu.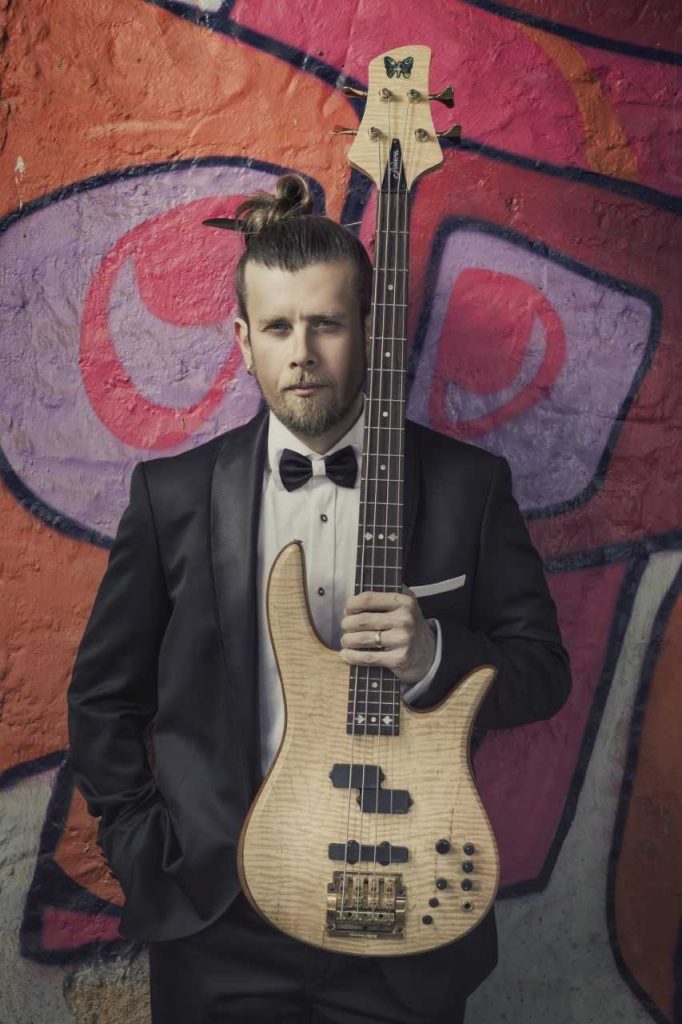 Turkish-Cypriot electric bassist Oytun Ersan
Unfazed by this formidable arsenal of musical colleagues, Turkish Cypriot Oytun's instrumental prowess comes through powerfully as he nimbly navigates his way through seven original compositions.
"Oh, That Butterfly!", is an impressive opening cut, packing a punchy big-band sound (Think Jaco Pastorius' Word of Mouth) and also highlights Oytun's tasty bass slapping technique.
The suspenseful "Mysterious Maze" unfolds with serpentine passages which keep the listener wondering what's around the corner.
Nicosia-born Oytun riffs and grooves like a disco dancer off Eric Marienthal's alto improvisations on this track, as he does on "Rooms".
Oytun Ersan plays Fodera guitars, and is influenced by Jaco Pastorius, Ric Fierabracci, Tom Kennedy, Victor Wooten and Marcus Miller among many bass players.

You can hear these influences clearly on "Rise Up", "L.A." and "Oceans".

Oytun is a masterly composer who knows how to set up great rhythms for musicians to jam on without getting in the way.
The balladic "Sacred Solace", featuring vocalist Simge Akdolu, is outstanding in its melodic and harmonic architecture and ably demonstrates Oytun's versatility as a writer and performer.
Music has been an abiding presence Oytun Ersan's life:
"My father was a bass player and music has been a huge part of my family's life. My older brother Okan is a superb guitarist and from the time I was quite young I would pay attention to what my father and big brother were doing and learn from them."

Why did the bass guitar hold so much fascination for him?
Oytun explains:
"My first instrument was actually the alto saxophone and I played it as a member of the International Nicosia Municipality Orchestra. Twenty years ago, while taking a drink break at a club gig, I saw Ric Fierabracci on the TV screen. As soon as I heard him play, I said to myself, 'I'm definitely going to play bass guitar!'. Its been just amazing that so many years later, Ric produced my last album. And I don't think it's a coincidence!."
Fusiolicious is a strong follow-up to Oytun's 2015 CD, East Meets West.
Oytun has been a veteran networker and has led international collaborations with the jazz fusion smart set.
Being a jazz musician in the TRNC, however, does have its fair share of challenges.
For one, the country doesn't have a jazz scene and jazz isn't aired on local television or radio stations.
It's an even trickier proposition to market and distribute a jazz album in this part of Cyprus.
All of that said, Oytun continues to make waves much further afield, and so far, he seems to have a winning formula.
Last month, he performed at the Baked Potato Jazz Club in Studio City, Los Angeles, and appeared at the 2019 Bass Bash gathering for titans of the low end.
"Mixing jazz with elements of your own culture is one of the ways of getting noticed in a situation where almost everyone sounds the same. It certainly gets the attention of audiences who want to listen to something different."
For more information on Oytun, please visit www.oytunersan.com