Former Atlantic Records recording artist and frontman for the critically-acclaimed,chart-topping band Abuss, Adolfo Busillo, has unveiled a new project that he describes as "traditional rock and country music infused with modern pop elements."
New Moon Rising (NMR), a seven-piece rock/country/pop band that incorporates traditional instrumentation (guitar, bass, keyboard, and drums) with unexpected elements, including BeatBox, banjo, electronic percussion, loops and harmonica, has released its debut single "No Regrets" on all DSPs with the accompanying video on Tuesday, August 10 at https://www.youtube.com/watch?v=cB7oKN87VEM.
The single is the first from a new collection of songs that the group is currently working on and the one that they say epitomizes NMR's formidable sound.
"This song captures what we, as a band, are really about," said Busillo. "It's strong lyrically, with a dynamic story woven throughout, and the juxtaposition of the traditional country/rock vibe with the infectious groove of the beatbox just makes you smile. We just want to delight our fans with catchy melodies, infectious guitar riffs, and inspiring lyrics that take them on a cosmic journey with us."
"No Regrets" also features NMR members Bethany Kazimir (Backup Vocals), Jasper Paciotti (Banjo, Acoustic Guitar, Bass, BeatBox, and Vocal Percussion), Pete DeSalvo (Drums and Background Vocals), and Bill Miller (Lead Guitar), and was produced by Busillo and co-produced and engineered by Eric Ritter at Windmill Agency. After the band recorded the single, theyadded the musical talent of Stephen Kazimir (Bass) and Scott Zimmerman (Keys).
To celebrate its debut, NMR has also unleashing an accompanying video that Busillosays was inspired by "reminiscing about his childhood and the sentimental feeling of being young and free without consequence." Produced by Busillo with videography and editing provided by Christopher Rhatigan (@therhatigan), the video conveys a nostalgic and heart-warming message of living with "No Regrets" – a message that the band says needs to be heard, especially today.
"With everything that the entire world has had to endure in the last year, the message of looking forward to a brighter future while remembering the 'good old days' of the past is now more important than ever," said Busillo. "It puts everything in to perspective of where you've been and how you got to where you are today. During times like these, we really can't afford to waste your life holding on to regrets."
Prior to forming NMR, Busillo was signed to Atlantic Records with his band BRS. He went on to form the commercially-successful band Abuss, with whom he wrote and performed the smash hit "Poor Days" (Daybreak) in 2015, which peaked in the Top15 at the AC40 format and went on to enjoy record-breaking chart activity on various charts ranging from New Music Weekly to the Independent Music Network.
Continually seeking spirituality in his quest for the perfect band to create a new sound, he didn't feel complete until he created his newest project, NMR. He decided to call the band NMR for the beginning of a moon's cycle, which is a representation of his cosmic journey with his new band.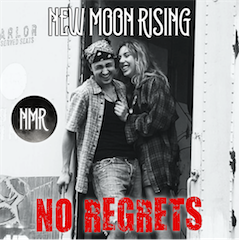 For more information about New Moon Rising, visit https://www.nmrmusic.com.
Follow New Moon Rising on social at:
@nmrmusicofficial (FB)
@ nmrmusicofficial (IG)
@ nmrmusicofficial (TikTok)
@New Moon Rising Music_Official (You Tube)