Brazilian tenor saxophonist Márcio Resende will release his third studio recording entitled Elegant Fish on February 26, 2021. The album features Márcio Resende (tenor saxophone); Hélio Alves (piano); Jorge Hélder (acoustic bass), and Marquinhos da Costa (drums), with special guests Sandro Albert (electric guitar), Toninho Horta (guitar), and Claudio Nucci (vocals). It will be distributed globally and available on all major music platforms.
Resende's concept for Elegant Fish was to present his audience with what he calls the "New Bossa Nova" flavor while integrating the openness of World music. The album's repertoire combines American and Brazilian standards with original compositions and reunites Resende with a longtime friend, renowned guitarist and producer Sandro Albert. Together, they are responsible for all of the album's arrangements. The recording features Latin Grammy-Award-winning virtuosic acoustic guitarist Toninho Horta. "Toninho Horta has been a hero to generations of fellow musicians and a great friend of mine since 1977," says Resende.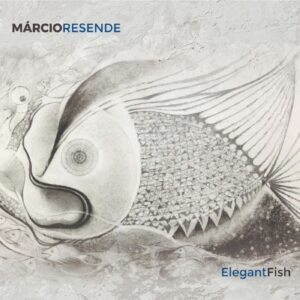 Elegant Fish includes beloved Jazz standards by Brazilian composer and instrumentalist Antonio Carlos Jobim, "Amor em Paz," and "You Don't Know What Love Is," and songs by Horace Silver, Benny Golson, and Cole Porter, among others. An avid composer, Resende's works are among the musical selections and include "Final de Tarde," "Body Heat," "Um Nome num Barco" written by Márcio Resende, Cláudio Nucci & Paulo Cesar Pinheiro, and the album's title song "Elegant Fish." Of the album, Resende says: "Elegant Fish represents my debut in the Bossa Jazz scene. I interpret nine standards through new arrangements that I wrote with producer Sandro Albert, and I composed four original compositions. I am delighted to have special guest artist Toninho Horta on acoustic guitar and Sandro Albert (Electric Guitar), and Claudio Nucci (Vocals)."
Recognized as one of Brazil's leading woodwind players, early in his career, Resende studied at two prestigious U.S. music institutions, Berklee College of Music and The New England Conservatory, respectively, before pursuing his doctoral studies at New York University. He has studied with Jimmy Giuffre, George Russel, Joe Allard, Dr. William Thomas McKinley, John McNeil, Jack Rilley, George Garzone, Joe Lovano, Jim McNeely, and Don Cherry, and has performed at festivals throughout Latin America with numerous renowned musicians, including Toninho Horta, Wilson Simonal, Elza Soares, Belchior Ednardo, Mario Adnet, Claudio Nucci, Alexandre Carvalho, Lula Galvao, Jorge Helder, Joey Calderazzo, Matt Darriau, Ze Menezes, Dominguinhos, and others. Resende has released two other albums as a leader, "New Bossa" and "Tutys." He is currently a professor of music at the State University of Ceara in Fortaleza, Brazil.
All songs on Elegant Fish were arranged by Sandro Albert and Márcio Resende. The album was produced by Sandro Albert and recorded by Alexandre Fontaneti. It was mixed by Kevin Killen and Mastered by Oscar Zambrano. Executive Production by Frederico Cameplo Costa. Drawing by Antonio Carlos Campelo Costa.
For more information and to purchase Elegant Fish, visit: https://www.marcioresende.com