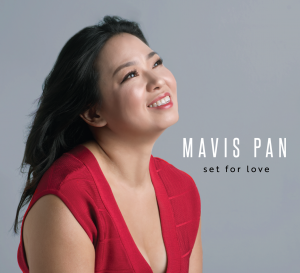 Accomplished Asian-American pianist and composer Mavis Pan released her third album Set For Love on May 12, 2019. Equally proficient in both jazz and classical music, Pan has performed her works in numerous esteemed music halls and venues across the United States, Europe, the Middle East, and Asia. She has studied under renowned contemporary classical composers Tania Leon and Dalit Warsaw and has received numerous accolades including Brooklyn College Conservatory's Morton Feldman and Miriam Gideon composer awards and was a finalist in the YPMP/CACA piano competition.

Set For Love was produced by Grammy Award-winning drummer and producer Ulysses Owens, Jr. and was recorded in New York City at Atomic Sound, Bunker, and Bass Hit studios. The album showcases a collective of exceptional musicians that accompany Pan in a mixture of both small and full-sized ensembles. The repertoire comprises original songs co-written with her project partner, celebrated professor and lyricist David Keyes. Pan has recorded two other albums as a leader: On My Way (2010), and Not Alone (2016).

The creation of Set For Love came following a difficult period in Pan's life and was guided mainly by experiences she had endured through a past relationship. The result is a reflective body of work that looks at love in its various forms, exploring the subject in many contexts including head-over-heels love, love in trouble, love anticipated, and love remembered. Each song was born of a lifetime of experience, a 12-year collaboration, and a moment of inspiration. Every track has been created by a loving family of musicians, coaches, engineers, and producer. This concept album completes a cycle of jazz styles including ballad, blues, bolero, bossa nova, samba, swing, tango, and waltz, all on the world's most timeless theme. Of the project, she says, "During this project, I have learned that pain is as sacred as joy. Pain is what a woman has left to prove to the world that she has loved. It is the receipt she can hold to prove that she has paid the price of love, regardless of how imperfect her love is. Yet such pain can be transformed into something beautiful in an artist's hands, it is not suffered in vain."

Originally from Taiwan, Pan was actively involved in music at a young age and moved to the United States in her teenage years. She studied jazz and classical piano along with jazz vocal performance at New York University and later attended Columbia University where she studied conducting and voice earning a Master's Degree in Music & Music Education. In July, Pan will study with composers Philip Lasser, David Conte, and Michel Merlet at the Composition Program of EAMA – Summer Music Institute at La Schola Cantorum in Paris, France.

Set For Love will be released May 12, 2019, on iTunes, Spotify, Amazon, and other leading music distributors; her album release concert will be held on June 1, 2019, at the Lincoln Center Bruno Walter Auditorium. For more information, please visit: http://www.mavispan.com