(Los Angeles, CA) Hidden Beach Recordings has returned with the soundtrack to summer. Perfect for barbeques, summer parties, and family reunions, Unwrapped Vol. 8: The Chicago Sessions is available on digital platforms worldwide today and is a family-friendly way that generations of people can listen to the music of today together.
Recorded in Chicago by Chicago musicians, the 10-track collection features mesmerizing hip-hop jazz reworkings of Gucci Mane's "Miss My Woe," SZA's "Love Galore," J. Cole's "ATM," JAY-Z's "The Story Of O.J.," and Travis Scott's double platinum single "Pick Up The Phone."
Early response to Unwrapped Vol. 8: The Chicago Sessions has been electric. Last week, programmed streams of "The Story Of O.J." surged 847% on Pandora. The on-demand audio streams for "Pick Up The Phone" are also experiencing exponential growth and were up 77% from the previous week.
For Chicago native and Hidden Beach Recordings founder Steve McKeever, it was paramount to create the newest iteration of Unwrapped in his hometown, a city that he loves and that has been in national headlines for all the wrong reasons. "Chicago has suffered through a sustained wave of unprecedented violence and the Jussie Smollett fiasco," McKeever says. "We want Unwrapped The Chicago Sessions to focus on the tremendous good of the city by highlighting the super talent that lives and creates there. Also, as a time when our country is horribly divided, Unwrapped Vol. 8 is a family-friendly way that diverse generations of all types of folk can listen to the music of today together – as Unwrapped has always done, turning the younger folk onto the magic of instrumental improvisational music and the older folk onto some of the best musical songwriting found in hip-hop."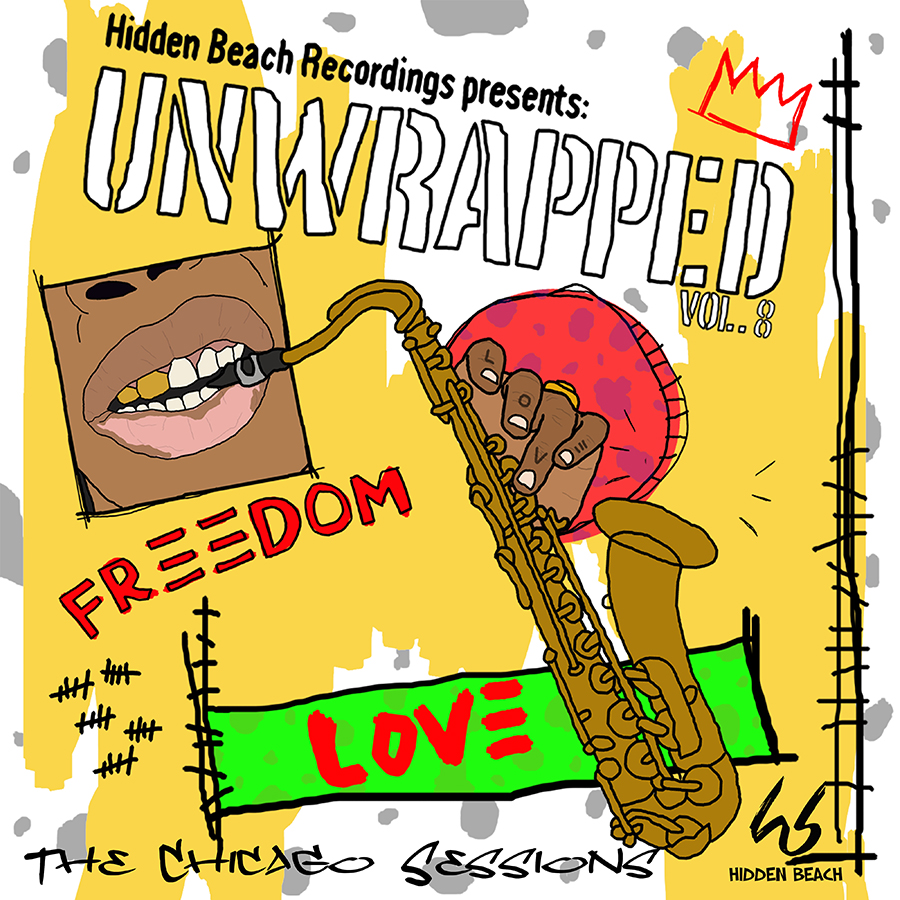 In addition to "The Story Of O.J." and "Pick Up The Phone," Unwrapped Vol. 8: The Chicago Sessions features new versions of Cardi B's "Be Careful," Travis Scott's "Goosebumps," Lil Uzi Vert's "The Way Life Goes," and Kanye West & JAY-Z's "Made In America." The LP also features Unwrapped's take on Cardi B's "Best Life," which features Windy City artist Chance The Rapper.
Anchored by producer and arranger Ivan Dupee, Unwrapped Vol. 8: The Chicago Sessions shines thanks to the incredible live musicianship and creative brilliance of Taylor Mallory (vocals), Richard Patterson (bass), James Perkins (saxophone), Thomas Barber (trumpet), Fred Yonnet (harmonica), Ben Turner (organ), Evan Simko (guitar), Joyce Hurley (vocals), percussion (DJ Ajonra), Courvosier Randolph (vocals), Sarah Clarke (vocals), Jon Shaw (vocals), Kareem K.W.O.E. Wells (vocals), Henry Johnson (guitar), Yvonne Gage (vocals), and Dupee himself (piano/keyboards). Several Unwrapped Vol. 8: The Chicago Sessions musicians are also part of the rising soul meets hip-hop band Dirty Revival.
Landmark rap tracks such as A Tribe Called Quest's "Bonita Applebum," 50 Cent's "21 Questions," and DJ Jazzy Jeff & The Fresh Prince's "Summertime" are among the songs featured on the first seven volumes of Unwrapped, which debuted in 2001. Tracks from the Unwrapped catalog have been streamed millions of times.
In addition to the acclaimed Unwrapped series, Hidden Beach Recordings launched the career of multi-platinum recording artist and award-winning actress Jill Scott and Kindred The Family Soul, among others. Hidden Beach Recordings also released an R&B album from multi-platinum artist Darius Rucker as well as a studio album and a Christmas album from gospel music legend BeBe Winans.
The Unwrapped Vol. 8: The Chicago Sessions tracklist is as follows:
Pick Up The Phone (originally recorded by Travis Scott)
The Story Of O.J. (originally recorded by JAY-Z)
Miss My Woe (originally recorded by Gucci Mane)
Goosebumps (originally recorded by Travis Scott)
The Way Life Goes (originally recorded by Lil Uzi Vert)
Love Galore (originally recorded by SZA)
Best Life (originally recorded by Cardi B f. Chance The Rapper)
Made in America (originally recorded by Kanye West & JAY-Z f. Frank Ocean)
ATM (originally recorded by J. Cole)
Be Careful (originally recorded by Cardi B)
For more information regarding Unwrapped and Hidden Beach Recordings, please contact soren@hiddenbeach.com
Website:  www.hiddenbeach.com