TORONTO, Canada (Sept. 24, 2023). When Toronto jazz pianist Jim Clayton began live-streaming during Covid lockdowns, he was only intending to entertain family and friends. He wasn't planning to wind up with 30,000 followers, or to exit lockdowns as a popular singer and entertainer.
But life's full of surprises. And now, after a career performing instrumentally and working as an accompanist and music director, Clayton has arrived center stage. After six instrumental albums, his new record "Look Out" is his vocal debut, recorded in New Orleans with jazz heavyweights Herlin Riley and Amina Scott.
"If you'd asked me pre-Covid 'what do you see yourself doing in three or four years' I'd never have come up with this," Clayton laughs. "As a kid who spent years in speech therapy, I figured I grabbed the brass ring by working in radio in my twenties. Singing seemed like I was pushing my luck!"
But he got urge to try it shortly before lockdowns began, and had worked on a handful of jazz standards with friends who taught voice. Then in March 2020, like most people, he found himself stuck at home. "Right after lockdown began, I got a small job doing a performance video, and I'd rolled the piano into the dining room, for better lighting. Then my daughter Lenny and I did a couple of Facebook livestreams for friends from behind the piano, answering questions and taking requests."
Viewers dubbed the show Jim's Piano Bar, and within weeks it grew to thirty thousand followers. Canadian press and television news covered the story, which led to even more viewers tuning into the livestream. And when livemusic venues reopened, there were a lot of new faces in Clayton's audiences.
The press coverage also led to Clayton being invited to speak at JazzAhead, a music conference in Bremen, Germany, in April of this year. The resulting snowball effect was rapid; the conference led to invitations to perform abroad, and the need for someone to handle those invitations led to Clayton joining the roster of a management company specializing in jazz. There was one condition on him joining the roster, and that was that he record a new album featuring his vocals, as soon as possible.
Jim reached out to Chris Butcher, a Toronto friend who'd relocated to New Orleans and had opened a recording studio. Butcher, a noted trombonist, lined up the players, recorded and mixed the album, and co-produced the sessions. The polishing touches were applied in Memphis, by mastering engineer Kevin Nix.
The result is Look Out, a collection of songs ranging from jazz standards to reinvented pop classics and theme songs from his youth. "I was just intending to showcase my vocals, and didn't set out to make a particularly personal album, but after reading the liner notes, I realized I had."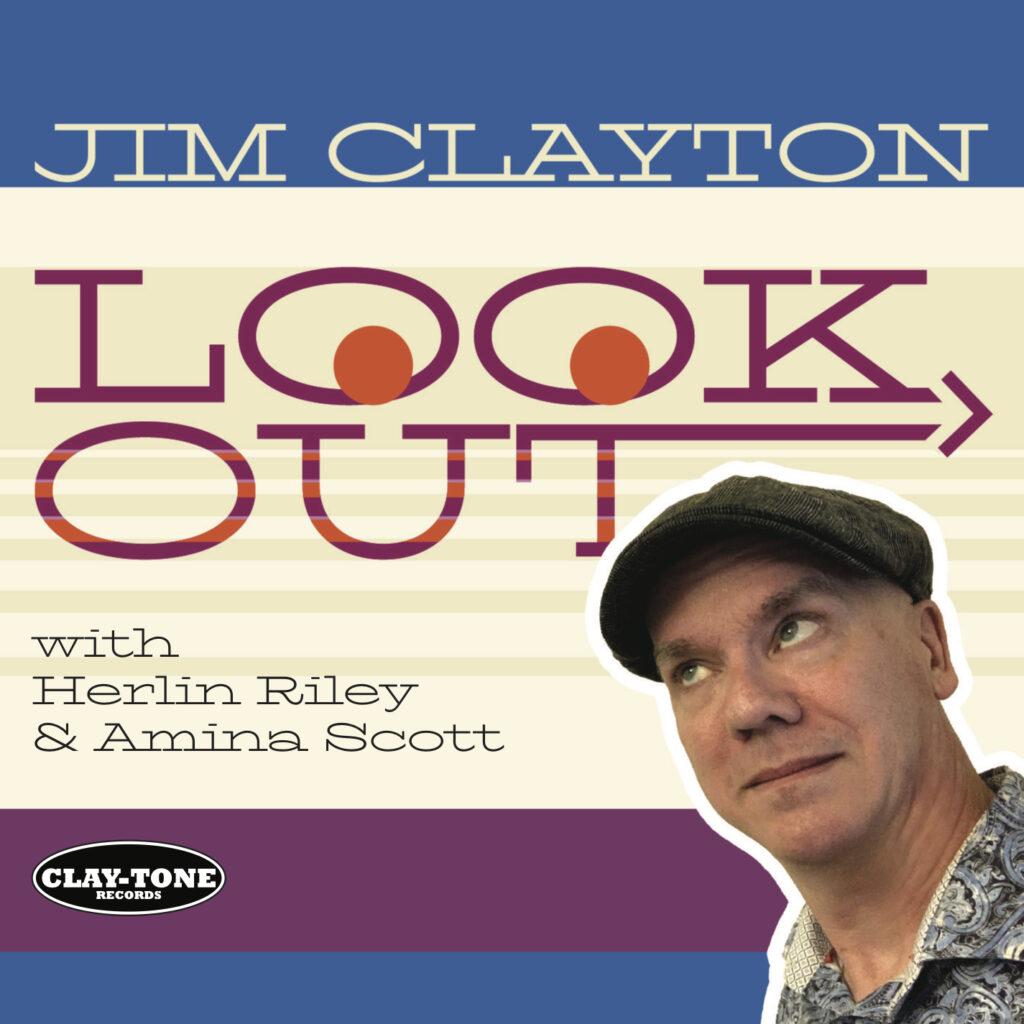 Those liner notes were written by Ricky Riccardi, winner of the 2022 Grammy for Album Notes, and acclaimed author of three biographies on Louis Armstrong. "Clayton can swing the daylights out of anything," Riccardi writes, "But he has a different more expansive definition of 'Great American Songbook.' It's a refreshing concept I hope more 21st-century artists follow; the Great American Songbook will live forever, but what are the songs in your personal songbook?"
"I get a kick out of the liner notes," says Clayton. "I told Ricky that if I was going to include liner notes in the album, I needed someone with a sense of humour to write them. I mean, I do the Spider-Man theme. So the liner notes can only be so serious." Humour also figures into Jim's live shows, having spent a decade as music director with The Second City, the famed theatre company which launched the SCTV television series. He's worked with cast members of SCTV, Saturday Night Live, Mad TV, and Kids In The Hall.
In addition to jazz classics from Rodgers & Hart and Henry Mancini, the album includes jazz arrangements of hits by Paul Simon, Sting, Santana, and Jim Croce. Clayton also puts his spin on themes from favourite movies and shows including The Aristocats, MASH, The Muppet Movie, and Peep And The Big Wide World, a family favourite from PBS Kids, with a lyric originally sung by blues great Taj Mahal.
This isn't the first time Clayton has recorded an album in New Orleans. His fifth album, Songs My Daughter Knows, was recorded in the Crescent City in 2012. "It wasn't even intended for release. My daughter Lenny was two and a half, and I wanted to record jazz arrangements of some of her favourite songs and TV themes, and just burn some CDs to hand out at her third birthday party."
But after assembling a quartet that included New Orleans music royalty including drummer Jason Marsalis and percussionist Bill Summers, Clayton's wife Tracey knew he'd created something special, and insisted that he release it as an album. He was wise to listen to her, as the album received glowing reviews (DownBeat Magazine called it "warm, happy and soulful") and landed in the top 30 on US jazz radio.
"My career is filled with unexpected turns and swerves. I'd never have imagined that performing on the internet would lead to anything, beyond amusing our friends. But here we are, with me changing gears yet again, and having a great time doing it."