Where There Are No Words Follows Two Hit Singles
After back-to-back hit singles, which earned them praise for their "transcendental guitar solos and affective vocal harmonies" (Lost In The Manor, March 2023), critically-acclaimed melodic pop/ rock duo Stereo Glow have revealed details for their highly-anticipated debut album. The esteemed singer-songwriters Jessica Jellen and Mark Burke have released Where There Are No WordsThursday May 19 on all DSPs, along with an exciting new trailer at https://youtube.com/shorts/zo8XChxDHtE.
According to the duo, the record is "representative of the truly bizarre but special block of time that we had during the Pandemic era which allowed us to travel into and expand within our creativity." Jellen explains "Looking back, this album really expresses the mixed emotions during that time, the darkness, the relief, the fear, the joy…the unknown."
Where There Are No Words follows the release of Stereo Glow's hit singles "Captivation" and "Dig It Up." Exemplifying the range and diversity in their songwriting, "Captivation" embodies a colorful and bold alternative/pop rock anthem while "Dig It Up" is a much more rocking, multi-dimensional song that leans toward the gritty and obscure side. Both were lauded by critics for their technical prowess and intricate musicianship – particularly for the duo's first effort. In fact, Daily Music Spin described them as:
"Multicolored rock duo StereoGlow has been turning heads with their brand of high-octane melodic rock that is equally as cathartic as it is visceral.'"
Burke believes this can be attributed to the familiarity of their songwriting process and their willingness to push boundaries musically and personally. "While both of us approach writing from different angles, we found that we were drawn to the same soul, the same essence. We challenged the other in a very healthy and productive way," he said.
Their synergy can also be felt while performing. Jellen's hauntingly beautiful voice is fueled by Burke's incendiary guitar and bass performances, making them a tour deforce with their first musical effort.
"We feel that we have shown a very true part of ourselves and perhaps people can appreciate that," said Jellen." "It took so much heart and discipline to carry this project through, and at times, it was trying, but ultimately it was to execute something that was carefree and real. We hope listeners feel the love we poured into it and a sense of surprise."

~Jessica Jellen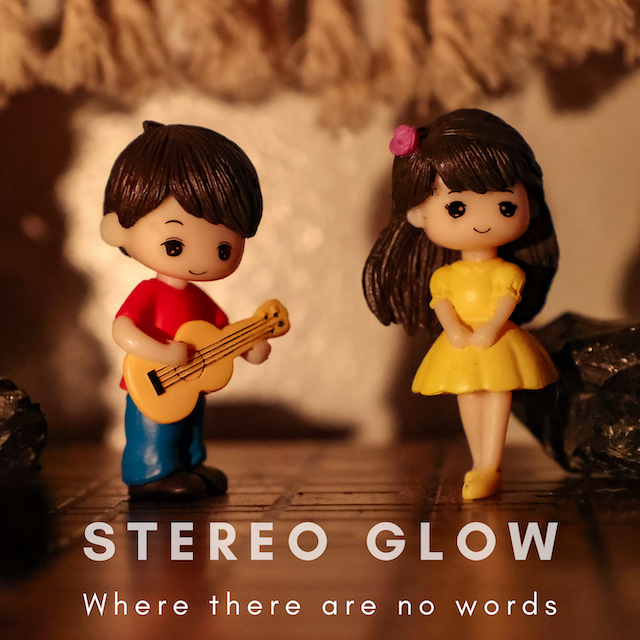 All songs featured on Where There Are No Words were written, arranged, performed, and produced by Jellen and Burke. It was mixed by Howie Beck at Studio H in Toronto, Canada and mastered by Noah MIntz at Lacquer Channel Mastering in Toronto, Canada.
The official tracklisting for Where There Are No Words is:
Captivation
The Next Ice Age
Dig It Up
Party Rumble
Changing in the Light
Soaking In
Lee Runs Free
The Rain Became an Ocean
Come Along With Me
Armor Amor
To listen to Where There Are No Words, visit https://soundcloud.com/stereoglow/sets/where-there-are-no-words/s-ZrdAaXkCrN5?si=de1a026cafda4f32912716ec53c20002&utm_source=clipboard&utm_medium=text&utm_campaign=social_sharing
For updates on Stereo Glow, follow them @stereoglow (Facebook) | @stereo_glow (Instagram and YouTube).