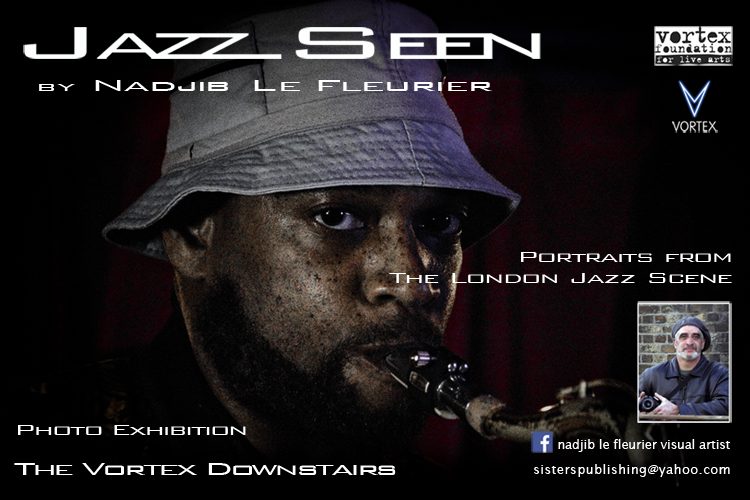 By John Stevenson
Nadjib Le Fleurier is one of London's leading photographers. He has been busily – and very creatively – documenting the increasingly rich jazz scene in the capital.
He has staged several exhibitions of his work which have received critical acclaim in recent years.
His latest exhibition, Jazz Seen (launched in November 2016 to coincide with the start of the annual London Jazz Festival) on display at Dalston's Vortex Jazz Club, comprises 18 portraits of 'unique vibrant and eclectic musicians' operating on the London jazz scene.
Most of the musicians captured by Nadjib's idiosyncratic lens have performed at the Vortex at some point in their performing careers.
Nadjib's striking work – stemming from his multi-cultural part Indian, part French heritage – engages with the themes of identity, duality, complimentarity and opposition.
While growing up in Paris, Nadjib was frequently mistaken for North African and faced all of the myriad prejudices accompanying this racial and ethinic identification. It also gave him penetrating insights into a society circumscribed by many deep-rooted prejudices. Alongside these issues, Nadjib is also grappling with the devastating effects of a long-term illness which has heightened his sensitivity to the themes of ephemerality, ageing, mortality, and a sympathy for vulnerability and the invisible.
All of that said, a sense of celebration and a genuine love for jazz is palpable in his photography and his love for art, poetry and nature.
Jazz trumpeter Kevin Davy says:

"Nadjib Le Fleurier's visual work relating to jazz, improvised music and related forms, tends to look and probe deeper, posing philosophical questions related to musicians' thought processes, before, during and after the sound production, touching on the psychology of improvisation, and the essential flow required to improvise music freely. Some of his visual compositions capture this time and space. He is searching for the essence of the music and the improvisation process."Jazz Seen runs at the Vortex until November 2017