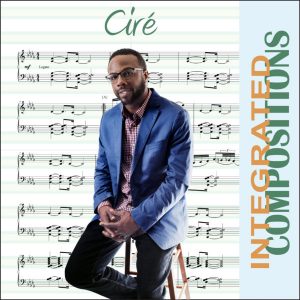 The songwriter and producer of jazz known as Ciré has released his latest official album, "Integrated Compositions." The album contains six original Ciré tracks plus one cover track, for an approximate total listening time of half an hour. It has been proudly published as an independent release without the involvement of the corporate music industry on the Sea Breeze Records label. Varied, inclusive, and as expertly written as it is performed, "Integrated Compositions" showcases Ciré as a contemporary jazz artist with one foot in the solid traditions of the sound and the other planted firmly in the future.
In addition to the considerable talents of Ciré (pronounced sah-ray) himself, "Integrated Compositions" also features performances by Eric Breeze Dunbar, Rashaad Carlton, Michael Brown, Nicholas Payton, and Damian Deno V-Flyy Duplessis.
New Orleans, LA's Ciré cites as main artistic influences Bill Evans, Kenny Kirkland, Joe Sample, Miles Davis, George Duke, and Chic Corea. Ciré's own sound perhaps has most in common with the eclectic and oft underrated 1990s work of Davis, with sound bites and digital elements closely intertwined with classic brass and percussion jazz riffs, but the title of "Integrated Compositions" is very apt. Ciré braids so many styles and tones in this album that to compare it to the work of others is misleading.
"Music Artists have been conditioned by the music industry to be followers," says Ciré, "but how long do you follow? You follow until you discover that you are a leader. When you discover that you are a leader, the only thing left to follow is your heart. Don't be limited by genres, time signatures, chords, or any of the other rules of music that you have learned."
With an emphasis on mood, groove, and evocative experimentation, "Integrated Compositions" by Ciré will please jazz heads and casual music fans alike.
Asked to describe the overall meaning of "Integrated Compositions," Ciré writes, "The album tells the story of life – my life, and the gift of music that was passed down from my dad to me. Thus, the opening song is titled 'Offspring.' Every song on the album can relate to the average person alive today."
To his fans, the artist says, "As this album relates to life, I would tell my listeners to realize the gift that your parents left to you. You are their offspring. As you move through life, understand that it takes courage to do anything worthwhile. Be courageous!"
"Integrated Compositions" by Ciré on the Sea Breeze Records label is available from over 600 quality digital music stores online worldwide now. Get in early, jazz fans.
-S. McCauley
Lead Press Release Writer
www.MondoTunes.com
"Integrated Compositions" by Ciré –
https://www.amazon.com/Integrated-Compositions-CIRÉ/dp/B07MFP57DL/
Ciré Official Website –