The Album Features 11 Songs from the Manchester-Based Band's Rousing Reimaginations From the '60s Psychedelic Explosion
Acclaimed post-punk duo The KVB has released the vinyl pressing of their latest studio album Artefacts (Reimaginings From The Original Psychedelic Era). Featuring 11 tracks from the Manchester-based band's rousing reimaginations of unsung classics and hidden gems from the '60s psychedelic explosion, the vinyl version is available everywhere at Cleopatra Records.
The album offers radical reworkings of tracks by such iconic acts as 13th Floor Elevators, The Castaways, Them, The Troggs, The Pretty Things and many more. The KVB seem to capture the essence of the psychedelic era with their hypnotic rhythms and ethereal vocals that drift in and out of the listener's consciousness.
"To celebrate the 50th anniversary of the original 'Nuggets' compilation album, we decided to record our own versions of some of our favourite 60s psych classics. This era has been a constant influence throughout our music career, so we felt making this album would be the perfect tribute," the band said. "We wanted to bring these tracks into our world by totally rebuilding each song in our signature sound."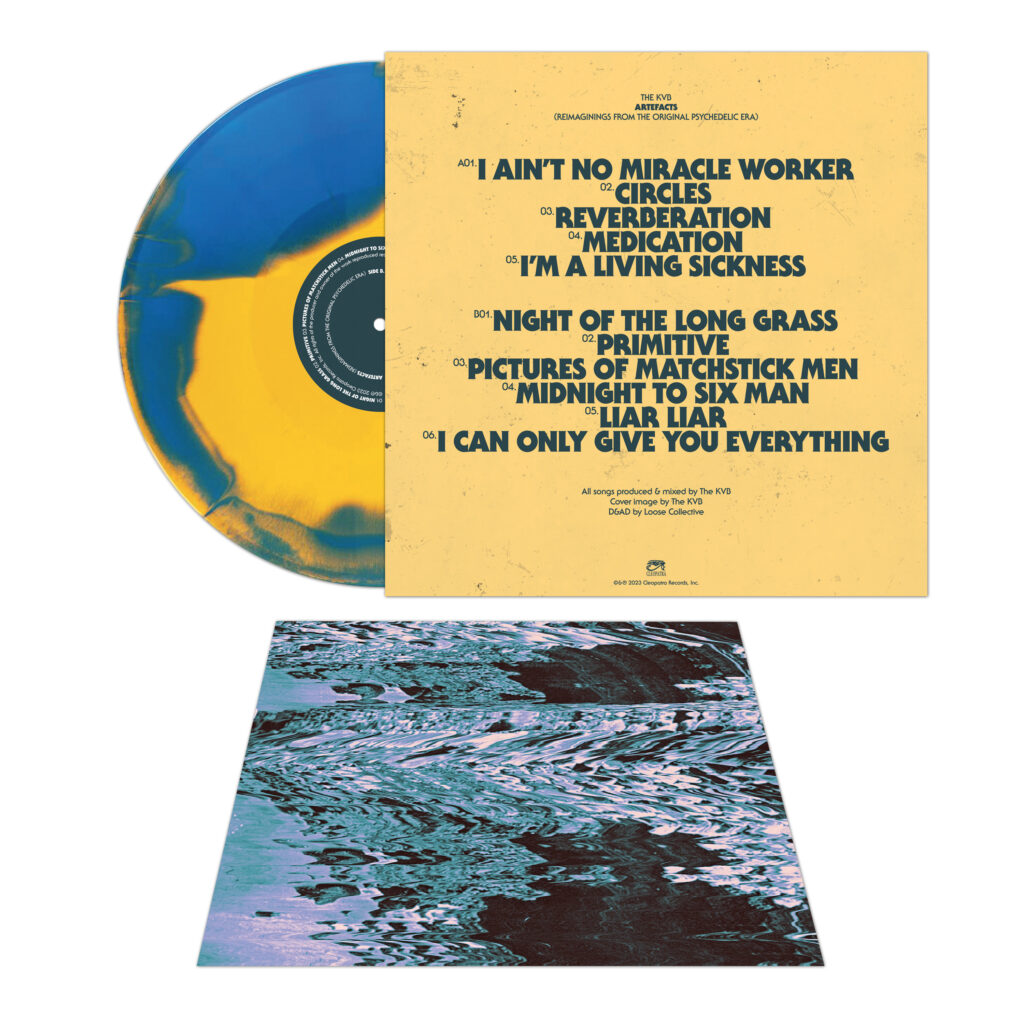 The official track list for Artefacts is as follows:
1. I Ain't No Miracle Worker
2. Circles
3. Reverberation
4. Medication
5. I'm A Living Sickness
6. Night Of The Long Grass
7. Primitive
8. Pictures Of Matchstick Men
9. Midnight To Six Man
10. Liar Liar
11. I Can Only Give You Everything
The VINYL Artefacts is available at: https://cleorecs.com/store/shop/the-kvb-artefacts-reimaginings-from-the-original-psychedelic-era-blue-yellow-haze-vinyl/
The DIGITAL Artefacts is available at: https://orcd.co/thekvb_artefacts
The official video for the single "Pictures Of Matchstick Men" (originally performed by Status Quo) is available at: https://www.youtube.com/watch?v=rcGUEi3SWzk