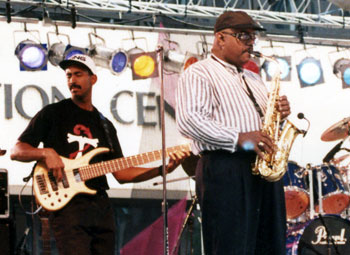 The 4th Annual Ocean City Beach (NC) Jazz Festival will be held on Saturday, July 6, from 5 pm until 8 pm. Scheduled performers will include vocalist Kim Pacheo with Richard Harris White, Jr., The John Brown Quintet and The Stanley Baird Group.
Doors open at 4 pm. The event will be held in the courtyard of the Ocean City Beach Community Center, 2649 Island Drive, North Topsail Beach, NC 28460 (behind the Wade Chestnut Memorial Chapel).
Ocean City Beach, North Carolina is an historic beach located a stone's throw from the Atlantic Ocean that was founded and developed by African-Americans in the 1940s, and is one the oldest beaches on the North Carolina coast.
No picnics or coolers, please. Food, beverages and merchandise will be available for purchase on the premises. Bring lawn chairs. Proceeds to benefit Wade Chestnut Memorial Chapel.
The 4th Annual Ocean City Beach Jazz Festival is supported, in part, by the North Carolina Arts Council, a division of Department of Cultural Resources.
More Information | Tickets: http://www.oceancityjazzfest.com/