It should come as no surprise that Lorraine Feather, a poet at heart, writes her song lyrics first. The musical notation comes later.
Feather's unique style of poetic imagery mixed with honest descriptions of personal relationships continues on her most recent album, the intriguingly titled Math Camp.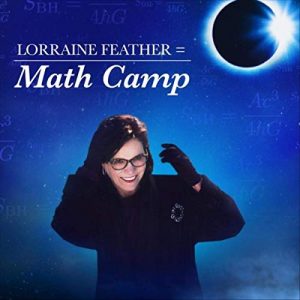 Feather isn't a math scholar, and she don't know much about physics book. But she does know what a wonderful world this would be when she sings "My love is like a good, good book / I pray will never end." Math and physics pervade her music on Math Camp, which isn't as dry as one would expect. On the contrary. Math Camp provides, ironically enough, poetic comparisons of physics with not only love, but also with the human condition. None other than Albert Einstein made the same observation when he stated that "Pure mathematics is, in a way, the poetry of logical ideas." Of course, Feather makes Einstein's wisdom a poetic statement in itself when she sings the quote. John Coltrane, whose "mathematic principles were connected to the divine," admired Einstein's concepts as well. And Thelonious Monk reportedly said, "All musicians are subconsciously mathematicians." Lorraine Feather recognizes everyday poetry in plain sight that begs to be converted to poetic cadence and imaginative melody, just as she discovers normally unrecognized mathematic involvement with music.
We've heard this before. For instance, Feature made into a song a "customer service" recording that we all hear all too often. From "We Appreciate Your Patience" on her Language album: "Thanks for calling! / This is a recording, but / Don't be nervous. / Our goal is to provide you with / Excellent service."  Yes, Feather investigated the poetic nuances of everyday language before investigating math.  At the end of that song, Feather elevated the words' meanings and added ironic insight by changing their context and by quoting a man using similar words to end a relationship: "You've grown so much / You almost are not the same you. / And I appreciate your patience." Feather's constant affinity for words continued on her other albums, such as when she applied her lyrics…and retitled…some lesser known Duke Ellington songs like "The Ricitic" (retitled "Antarctica") from The Duke Meets Coleman Hawkins. Feather allowed the occasional darkness of some of her songs to be celebrated in her haunting Tales of the Unusual album. For example, "Where Is Everybody?" on that album describes an episode of The Twilight Zone: "With no human race / It's like being in space." Rod Serling's epilogue in that episode: "Up there in the vastness of space, there is an enemy known as isolation. It sits there in the stars waiting." With words like that, it's no wonder that The Twilight Zone captured Feather's imagination.
Now the mysteries of physics have intrigued her.
Working with her collaborator of more than thirty years, guitarist and composer Eddie Arkin, Feather has created an album of originality that does for math what Language did for words. That is, it calls attention to everyday situations with poetic applications of intellectual concepts. Arkin is so familiar with Feather's artistry that he has mastered the ability to write melodies that complement the thoughts animating Feather's lyrics. So typically, on "I Don't Mean to Make a Big Deal of It," Feather describes the complexities of a relationship with antithesis and droll allusion: "Our love is weighty / Then it's light. / It comes with a price, / But the price is right." There is the math—the cost of a relationship. And then in a eureka! moment, Feather cleverly weaves into its spoken monologue every number from zero to ten. Not only writing the minor-key melody, but reinforcing Feather's mood, Arkin chose for wavering, gliding effects the instrumentation of two guitars, instead of solely piano or piano or guitar/piano. On "Euphoria," the creativity of both Feather and Arkin accomplishes yet another thoughtful evocation of intertwined opposing emotions. Arkin beautifully understates the accompaniment on baritone guitar while Feather as always builds to her thematic conclusion. That conclusion is: "We lose ourselves, and then, / Euphoria comes as one soft sound, / And we are found again."
Pianist Shelly Berg collaborates with Feather again too. In contrast to some of the ruminative nature of some of the album's other songs, their "It All Adds Up" sweeps along in a major key with joyfulness embellished by Dan Higgins' clarinet warbling and Russell Ferrante's rippling piano lines. Feather sings: "I haven't felt this giddy / Since I don't remember when." More obscure, one would expect, is their "Some Kind of Einstein," which the duo begins with classical references until the coruscating piano expression of the "aha" moment that occurs to scientific investigators.
In addition to the West Coast musicians who accompanied Feather on previous albums, New York jazz musicians like Fred Hersch and Gilad Hekselman appear on several of the tracks as well, now that Feather has relocated to the East Coast. Their work on the title track proves that they understand Feather's inimitable style. Hersch lays down the broad chords and solos with scampering dissonance, while Hekselman provides the twangy eeriness that defines some of Feather's songs. Eerie enough that one of Feather's verses consists solely of the numerical value of pi. Her conclusion of such unconventional lyrics is that "My chances of resisting you / Were statistically insignificant." Typical Lorraine Feature as she combines humor, thematic consistency, scholarly interest and emotional summation. "In a Hot Minute" breezes along as, unexpectedly, a samba set up by the New York group. Feather sings of the essence of time in a way that no one else ever has: "I realized it's not always true / That years race by in the blink of an eye. / Maybe life isn't short like everybody says, / But luxuriously long / Passing slowly."
How to describe Lorraine Feather? Her style is recognizable enough by now. She starts her songs with words—fascinating words—that contain their own clever meanings as she makes unconventional thoughts accessible through personal connections and through the rhythms and melodies of music. Who knows where Feather will go next? Now that she has made her statements about math, science, language, history, unknowables and catastrophes, will she explore fine arts, medicine or politics? Only she knows. But we know that captivating thought, wry poetry and quirky melodies will continue to capture her listeners' attention about complicated subjects in ways that no one else can.
Artist: www.lorrainefeather.com