Undaunted by the COVID quarantines, legendary jazz photographer/producer/audio engineer/promoter Jimmy Katz found the pandemic's impediments instead to be challenges that led to memorable solutions. Due to COVID's terrors, the live jazz venues shut down, and jazz musicians encountered reduced or no performance opportunities.
As the owner, along with his wife Dena, of the Giant Step Arts organization, a nonprofit organization dedicated in 2018 to recording and promoting live jazz performances, Katz started a series of live jazz concerts in New York's Central Park, where listeners responded positively to outdoor music with social distancing. Initially, Katz's thirteen Walk with the Wind concerts at the park's Mall featured internationally known musicians like Chris Potter and Nasheet Waits.
As luck would have it, New York's Parks Department reduced operations, advantageously releasing for Katz's purposes another location: the quieter Summit Rock—the highest point in Central Park. Summit Rock was more to Katz's liking. Fewer sounds of the city interfered with jazz performances that took place during the twenty concerts there.
Katz's discovery of Summit Rock's availability led to historical revelations. Initially settled by the Lenape and Wappinger tribes, free African Americans established in 1825 Seneca Village, within which Summit Rock was located. On New York's present Upper West Side, the village was demolished in 1857 after eminent domain proceedings made way for Central Park.
Katz used battery power to overcome the difficulties of achieving high-quality recordings without electricity. His mastery of audio engineering led him to find a way to place the microphones for capturing sonic precision with clarity and tonal warmth, even while allowing for the reduced volume of applause and occasional background noise.
Katz recorded two of the Summit Rock sessions: one with Jason Palmer's quartet and another with Abraham Burton and Eric McPherson's trio. Those live pandemic-be-damned concerts—destined to become historic because of the dearth of live recordings from the spring of 2020 to early 2022—are now available as testaments of the human spirit's indomitable ingenuity to overcome obstacles.
Palmer, one of the generation's most exciting trumpet players, wants the space and freedom allowed by live concerts (Katz's specialty), rather than studio recordings. Palmer believes that the anything-goes unpredictability and freshness of live records arise from the human spirit and provide one-time-only improvisational statements, often influenced by the surroundings. Even so, Palmer has remained busy as a sideman with the who's-who of jazz, like Herbie Hancock, Roy Haynes, Jimmy Smith, Phil Woods, Lee Konitz, Greg Osby, Wynton Marsalis and the Lincoln Center Jazz Orchestra, and Lewis Nash.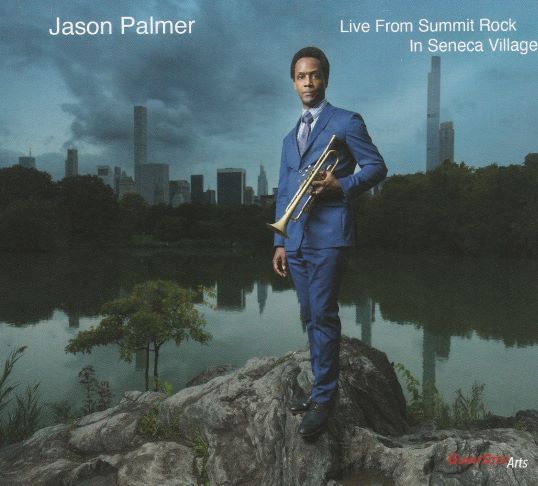 That freedom to play without constraints occurs from the first phase of Palmer's quartet's album, Live from Summit Rock in Seneca Village, recorded on May 31, 2021. With pinpoint precision and unwavering intonation, Palmer's initial solo mid-register clarion call on the six-eight "Falling In" rises effortlessly two octaves, single-octave assertions salting the performance throughout. Cushioning and fluttering notes, darting, and scaling rapidly to sonic heights, Palmer attains musical personality during that melodic introduction of a vocal quality and rhythmic displacement. Once the parameters of the composition are established, tenor saxophonist Mark Turner—whom Palmer met at one of his weekly gigs at Wally's in Boston (where Palmer lives)—harmonizes while bassist Edward Perez and Johnathan Blake lay down the rhythm. Despite his modesty, Turner consistently has been noted as one of his generation's most original tenor saxophonists, his ideas immediately identifiable, due to his admitted contrasting of sonic elements, like coolness and heat, his altissimo range adjacent to low-register work. Perez, who has recorded with Palmer on previous recordings like 12 Musings for Isabella, Places, and Here Today, finishes the track with a masterful two-minute bass solo at a quickened tempo accompanied softly by Palmer and Turner's three-beat long tones.
By contrast, "Landscape with an Obelisk"—referring to Govaert Flinck's stolen painting, its ominous storm clouds nightmarishly darkening an apparent park—features Blake's three-and-a-half-minute rumbling drum solo of thick textures, like the sky of an extreme weather alert. After the introduction's altered apparent allusion to "Also Sprach Zarathustra," Palmer and Turner's introductory unison rise splits into straightforward long-toned harmony and back into unison again, like the short median split of a roadway. The tempo speeds up into post-bop terms when the horns come in a second time after Blake's solo, Perez furiously pushing the rhythm after the initial call-and-response with Blake. Once again, the sound engineering is extraordinarily effective as each instrument's sound is distinct and rich, belying the logistical difficulties.
"Kalispel Bay"—inspired by the beauty of a bay at Idaho's Priest Lake ("Priest Lake" being the name of a Palmer composition on his 2008 Songbook album)—again commences with Palmer's imageable solo in the middle register until Turner comes in with counterpoint, and seamless harmony. The rhythm section creates a stirring rhythm while Palmer and Turner stretch out into calm improvisations.
"Self Portrait (Rembrandt)," another of four tracks over thirteen minutes, proceeds as the musicians paint their own picture, a dab here, a brush stroke there, aspects added for warmth and character. The musical reference to Rembrandt's dozens of self-portraits, painted, etched, and drawn as he aged, achieves its initial form from Perez's lines until the horns add color and texture, an artistic impression alluding to an artistic impression alluding to life. And then Perez comes in again to add the deeper tones with an extended solo approximating Rembrandt's use of chiaroscuro, the glowing human features fading into dark backgrounds.
The ten-minute "Program for an Artistic Soiree (Degas)" is animated appropriately by Perez's initial spare bass lines and Blake's light swirling rhythm. Edgar Degas's chalk sketch by this name, also stolen, features an impressionistic image of a double bass and its bow slashing across the piece, along with drawings confirming Degas's fascination with dancers. Turner repeatedly enters a beat behind each phrase that Palmer introduces, perhaps in reference to a dance.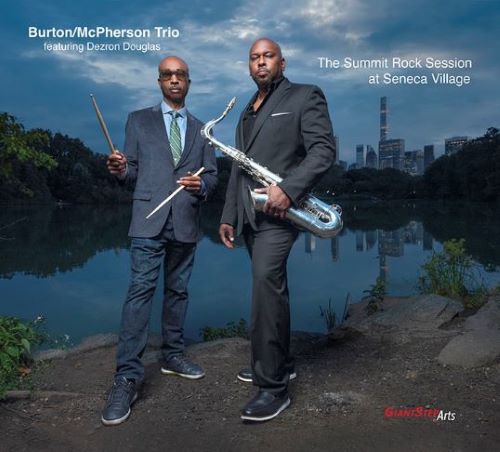 The Burton/McPherson Trio's The Summit Rock Session at Seneca Village, recorded on June 20, 2021, also showcases a group that prefers to perform without time limits. Abraham Burton and Eric McPherson have been friends and musical associates since their childhood years in Greenwich Village, through their education at the Fiorello H. LaGuardia High School of the Music & Performing Arts, through their post-graduate studies with Jackie McLean at the University of Hartford's Hartt School, through numerous recordings together. Not to mention their work with jazz icons like Art Taylor, Andrew Hill, Horace Tapscott, David Murray, Kenny Barron, and Louis Hayes.
Unfortunately, it seems that David Bryant, the keyboardist with the Burton/McPherson quartet, couldn't participate in the Summit Rock recording, apparently due the lack of means for hauling a piano up onto Summit Rock. Nonetheless, the quartet's bassist Dezron Douglas was there to accompany this closely aligned group, three musicians thinking as one.
Saliently, Burton commemorated the occasion with his composition, "Seneca Blues," which the trio plays with explosiveness. Douglas plucks prestissimo fours, slowing to occasional half and whole notes, while Burton plays with passionate ferocity, not in the standard twelve-bar blues form, but with pure improvisation. As if locomotively unstoppable, McPherson emerges energetically from Burton's solo to supply his own controlled exhilaration.
The album starts with "Flower," a melodic statement with jabs and upper-register wails and growling intensity from Burton's signature upper-register tone, at times recalling a soprano saxophone's tonality instead of the tenor saxophone's burnished lower notes. McPherson and Douglas provide the flowing pulse with understated propulsion. Douglas's solo that follows evolves into a double-stop vamp that leads into McPherson's work.
Then McPherson sets up "Curious," the next track's spirited composition, with a short virtuoso introduction rising in power until he provides the melodic contrast in a slower tempo. The first minute of "Low Bridge" involves Douglas's shaping of the piece as he creates a vamp. McPherson joins at the second minute, after which Burton, like them, underplays, nonetheless still beseeching, for a gentler presentation than that on the first two tracks. The vamp that Douglas crafts continues throughout until McPherson concludes the performance with yet another brilliant solo.
For eleven-and-a-half minutes, the trio reimagines Tadd Dameron's "If You Could See Me Now," Burton at first playing the melody with little ornamentation other than a few accents and blurts. He eases into a slow exploration of the song's harmonic possibilities until the pace accelerates slightly with Douglas's walking bass lines. The elegant mid-performance interpretation of the jazz standard, possibly chosen for the audience's recognition and relaxation (and successfully at that, from the sound of the audience's applause), precedes, as a tribute to the McLeans' influence, René McLean's "Dance Little Mandisa," which swirls and sways in six-eight. McPherson plays in the altissimo range throughout much of the piece.
"Will Never Be Forgotten" concludes the trio's Summit Rock concert with beauty and solemnity as Burton's composition recycles a musical phrase, which gains more emphasis throughout the performance, the spiritual expression growing with each repetition. And then it fades.
And the concert is over, the audience clapping and shouting in relief and thankfulness and hope during a live performance its members had been missing since March, 2020.
Artists' Web Sites: https://www.jasonpalmermusic.com
https://www.hartford.edu/directory/hartt/burton-abraham.aspx
https://www.hartford.edu/directory/hartt/mcpherson-eric.aspx
Label's Web Site: GiantStepArts.org