Efrat Premiered The Official Music Video For "Which Side Are You On"
To Celebrate Its Release
An Online Event Is Scheduled For Wednesday October 27 at 7 PM ET Featuring Live Performances And An Exclusive Premiere Of The "We Just Need Love" Music Video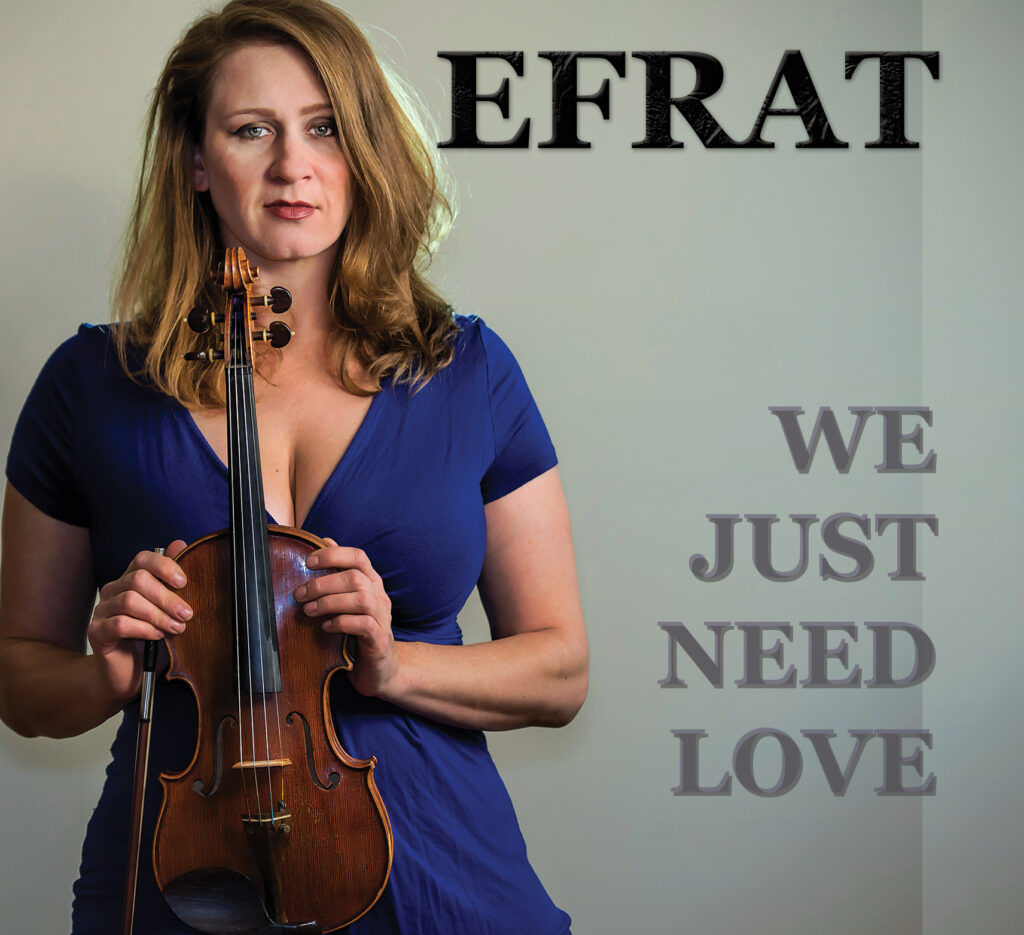 Critically-acclaimed Songwriter/ Violinist/ Vocalist Efrat has announced the release of her latest new EP We Just Need Love. Available on all DSPs starting September 1, the poignant album features four new original songs, plus a special rendition of the iconic protest song "Which Side Are You On." With a mission "to offer an uplifting message of hope and love," Efrat says the album was inspired by the trials and tribulations that she has faced over the past few years — both as an artist and a mother with a child with a rare heart disorder. And, more importantly, the beauty and understanding that can come with surrendering one's self to love.
The sophomore follow-up to her successful 2015 debut The Silver Lining, which debuted at #14 on the International Folk DJ Chart for October, We Just Need Love is already being hailed as the artist's most mature effort to-date. In fact, upon hearing only the title track and the other large production song on the album "Let Go,"Artie Martello (Catskills Cafe, WIOX 91.3) was moved to write, "[Efrat's] voice is so powerful and the songs are both hits… Looking forward to the others."
Timely issues including the Pandemic, isolation and the fear of losing those closest to her are addressed right up front in the pivotal "Let Go," while songs like "We Just Need Love," which was written in response to the March For Our Lives, organized by students attending the Marjory Stoneman Douglas High School in the wake of the mass shooting at their Boca Raton, FL school, and "Fade Away," which Efrat penned after learning that her son was a heart warrior, demonstrate the power and resilience of the human spirit.
"We Just Need Love was a labor of love. It was inspired by the strife that we all have experienced during the last half a decade," said Efrat. "It came from my own experience becoming a mother of a heart warrior and learning to fight for him for proper healthcare and much more. It opened me up to the understanding of how many different kinds of daily struggles we have… political, health, relationships, this Earth, and so much more. It instilled in me, once again, that LOVE is truly the answer. Becoming a rainbow in someone's cloud (as Maya Angelou once said) is the best thing you can do for yourself as well. That, and learning to Let Go… of expectations, desires, and learning gratitude for what comes your way despite life getting in the way of your initial plans."

~Efrat
Produced by Efrat, We Just Need Love was recorded primarily at her Woodbridge, NJ home studio, Ampersand Studios (Bridgewater, NJ), and participating artists' home studios in NY, OR, and PA. It was mixed by Gal Gershovsky and mastered by Mark Dann Recording.
In addition to Efrat, the project features a veritable "who's who" of musicians from jazz, bluegrass, old time, and Jewish music including: Gal Gershovsky, who is considered one of the leading drummers in Jewish music, both in Israel and the USA; Brian Glassman, a top bass player in Jewish and Jazz music who has toured the world as American Musical Ambassador for The U.S. State Department; andLarry Eagle, a drummer whois known in Jazz, Bluegrass, Old Time and more and has worked with numerous Grammy Winners. Eagle was also a member of the Bruce Springsteen "Seeger Sessions" band, and has worked with famed Bluegrass and Klezmer artist Andy Statman among others.
The official track listing for We Just Need Love is:
We Just Need Love
Which Side Are You On (verses by Efrat, chorus by Florence Reece, SESAC)
Meditation
Let Go
Fade Away (co-write with Jon Stewart Christopher, BMI)
We Just Need Love (without drums)
Let Go (without drums)
To celebrate the release of the EP, Efrat premiered the first music video "Which Side Are You On"from this collection, at https://www.youtube.com/watch?v=5mEEKqOxlWA.
Produced, directed, and edited by Efrat, the video was inspired by the history of the song itself. Written by Florence Reece while her daddy was on strike for the miners' union, it became a theme song then for the strikers. It was later adopted and re-versed for the Civil Rights Movement by Pete Seeger for the historic march from Selma to Montgomery. Since then, the iconic song has been re-written by Ani Difranco, Rebel Diaz, and many more across genres.
The video begins and ends with the United Nations flags, as Efrat believes we are all one and the answer to our future is to think of what's best, not for the individual, but for the human race and our planet as a whole. According to her, she chose to depict some of what she deems to be the most important fights we've had in our recent history including Black Lives Matter, Education Rights for all, Education Cuts, Nuclear Arms, Assembly to Sing, and more.
In addition to the "Which Side Are You On" video release, Efrat will also be hosting a live special online event Wednesday, October 27 at 7 PM ET featuring special guests and the new EP being performed in its entirety. Efrat will also play some of the most requested songs from her past albums and unveil the last music video from her EP "We Just Need Love." For more information, visit efratmusic.ticketleap.com/efratwejustneedloverelease/.
The We Just Need Love EP can be purchased for download here: https://efratmusic.bandcamp.com/merch
FOLLOW EFRAT (aka EFRATH SHAPIRA)
www.EfratMusic.com Facebook https://www.facebook.com/EfratMusic
Twitter https://twitter.com/EfratMusic YouTube https://www.youtube.com/EfratMusic
SoundCloud (other music): https://soundcloud.com/EfratMusic
SoundCloud (We Just Need Love) https://soundcloud.com/efratmusic/sets/we-just-need-love-efrat/s-fj47LR0mSHp
For more information about Efrat, visit www.EfratMusic.com