Sultan Stevenson, is one of the young talents to look out for on the UK jazz scene.
The 19-year-old will be performing at the 2020 EFG London Jazz Festival on November 22nd as part of the #jazznewbloodALIVE2020 showcase, which celebrates new and emerging jazz talent in the UK. He performs alongside Maddy Coombes and XVNGO at Artis, Blackheath, in South East London.
Currently a member of the Tomorrow's Warriors jazz collective (the Soon Come Ensemble) and a second year student at London's prestigious Guildhall School of Music and Drama, London-born Sultan is a composer and arranger comfortable in several configurations – from jazz trios and quintets to big bands.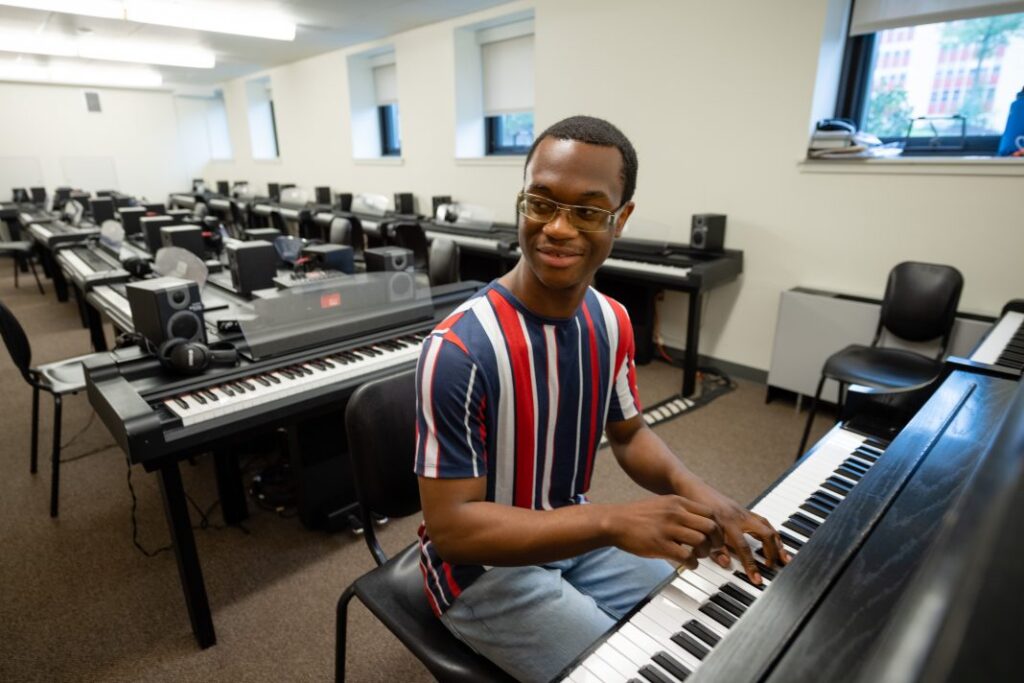 Sultan Stevenson at practice in Montclair, New Jersey, in 2018
No stranger to the London Jazz Festival, he has also performed at the East Lansing Summer Solstice Festival, the Montclair Jazz Festival, the Cross the Tracks Festival, Ronnie Scotts Jazz Club, the Vortex Jazz Club and New York City's premier jazz venue, Dizzy's Club Coca Cola.
Sultan has also attended the Michigan State University Big Band Symposium (under the direction of Professor Rodney Whitaker) and Christian McBride's Jazz House Kids, in Montclair, New Jersey.
In June 2020, Sultan released his debut single 'To be Seen' (in tribute to George Floyd) followed by 'Safe Passage' in September 2020.
In October 2020, the Sultan Stevenson Trio (Sultan Stevenson, piano; Kai McCrae, drums; and Jacob Gryn, upright bass) recorded a video as part of the Cinematic Sessions produced by Brighton (UK) jazz promotion outfit, New Generation Jazz.
They perform a mixture of covers and originals, including Joey Calderazzo's 'The Mighty Sword' and Sultan's original, 'To Be Seen'.