Los Angeles-based jazz collective TRITONE ASYLUM's newest album, THE HIDEAWAY SESSIONS, comprises an eclectic mix of original jazz compositions penned by the group's founders, EVI player PHIL TOPPING and bassist PETER SEPSIS.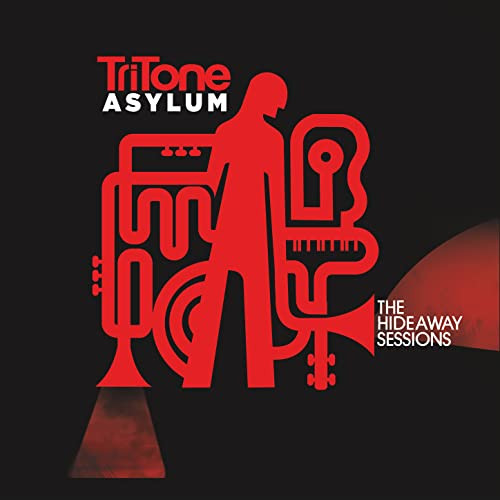 Topping and Sepsis wanted to create an album that is both accessible for the average listener and appealing to musicians. According to Topping, "I like music that tells a story. We don't want to write music that's so complicated that you need to study harmony to understand it. The music has to have heart." Sepsis agrees, "I try to make music that reflects the sounds of the street. That's why we move between an Afro groove, then funk, then Latin. The sounds of the street are made by people in the diverse community that is Los Angeles. If I'm not moving people, I'm not doing my job."
The band calls its music "electro-acoustic," blending the sounds of the EVI and electric bass with the acoustic sounds of the piano, saxophone, flute, trumpet, drums, and percussion.
TRITONE ASYLUM is a jazz collective with a sound all its own. Covering a range of styles, Topping's and Sepsis' compositions are complex and the group's musicianship is stellar. The music has a lot of heart, making it accessible for the average listener.
PHILIP TOPPING Electronic Valve Instrument, trumpet & flugelhorn
IAN VO tenor sax (1, 2, 3, 5, 7), flute (1)
ALLEN MASCARI tenor sax (4, 8)
GARY HERBIG flute & soprano sax (4, 6)
MITCH FORMAN piano & keyboards (1, 2, 3, 5, 7, 8)
HENRI WILKINSON piano & keyboards (4, 6)
ANDY WADDELL guitar
PETER SEPSIS bass
DAVE JOHNSTONE drums
BILLY HULTING percussion (1)
BABA SISSOKO percussion & voice (5)
Radio Promotion
MC Promotion — Michael Carlson
(360) 598-3044 | mcpro@earthlink.net
mcpromo.com
Publicity
Mouthpiece Music — Holly Cooper
(310) 993-4017 | holly@mouthpiecemusic.com
mouthpiecemusic.com